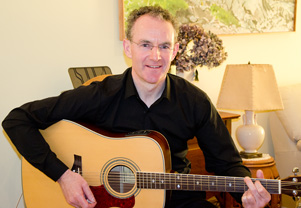 Des Behan has been providing acoustic and electric guitar tuition for over 15 years. He has played with many well known musicians in Ireland and the U.S. from whom he has acquired a good understanding of various styles and techniques.
Des is particularly good at connecting with learners, and working at their own pace, while following the principles of playing string instruments. He allows learners to choose songs that they themselves like, as this increases their interest and confidence in the learning process.
He also encourages students to sing as well as play, and to develop their own repertoire of songs.